At The Bot Platform we love being part of our customer's journey to continually improve their employee experience. As such, we're always looking to improve our offering – whether it be connecting to new channels or third party tools, adding new functionality, creating helpful content or offering different types of training opportunities and workshops. 
With this in mind, we've been busy botters for the past few weeks working on some exciting new product updates including a BRAND NEW Slack Integration, formatting improvements, a new template to better support employee reviews – and much more!
Have a read below to find out more about our new and improved platform.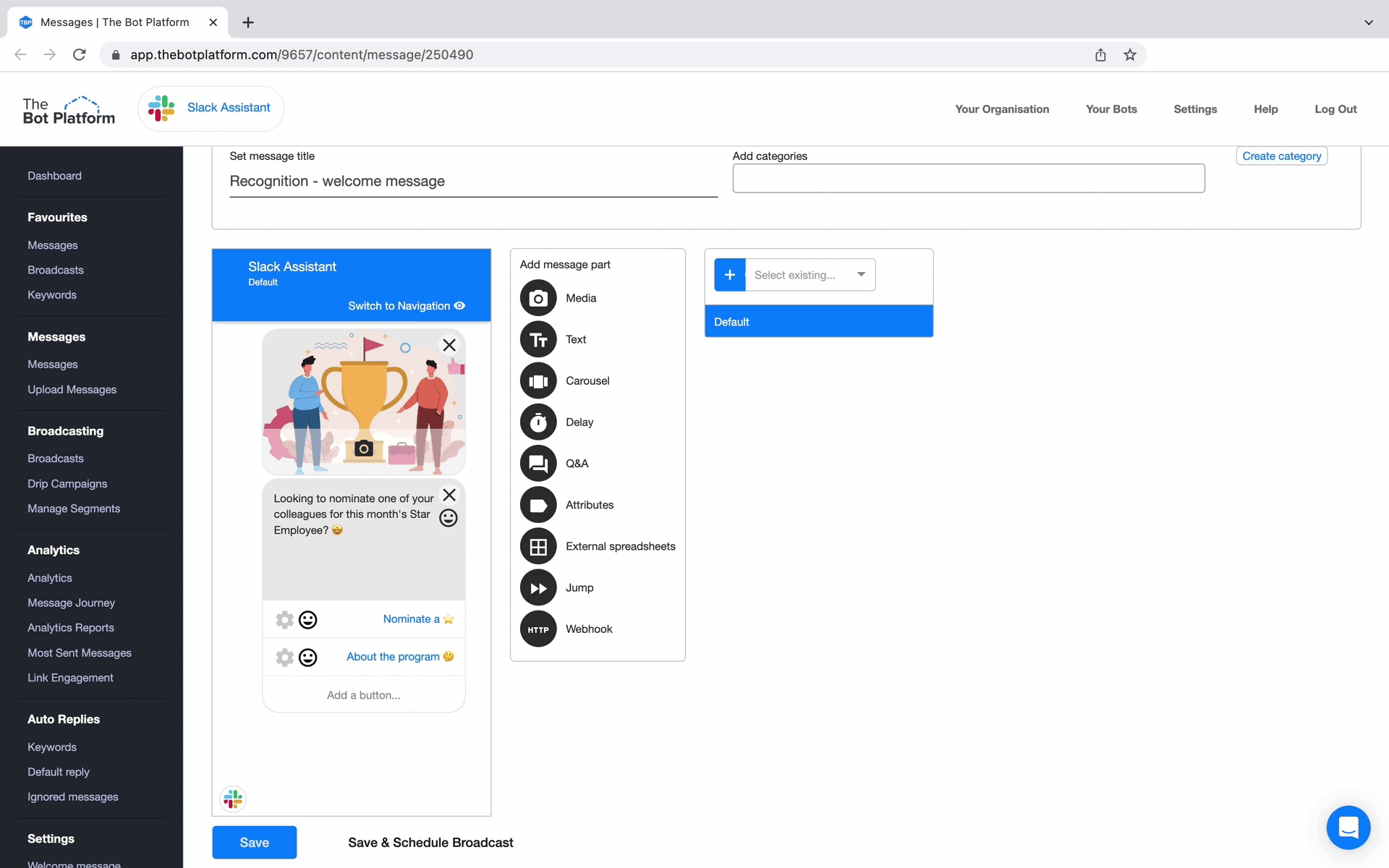 Here at The Bot Platform we pride ourselves on our ability to constantly learn and evolve. We've been a trusted platform for Workplace and Microsoft Teams for years, and we love helping companies like Coca Cola, Ennismore, Booking.Com and Virgin Media, take advantage of our easy-to-build digital assistants to automate processes, improve content delivery, increase engagement, boost productivity, save staff time and drive company culture!
So we decided that it was time to add another string to our bow, and as there are over 10 million daily Slack users that are crying out for a better way to automate the way they work and build a better employee experience, we felt like it was the right time to expand our offering. 
As such, we're excited to announce that you can now use The Bot Platform to easily build bots on Slack! Find out more about our integration with Slack, here.
Markdown Support for Group Posts
We also have a new trick up our sleeves to help our Workplace customers supercharge their group posts!

Using Markdown, you can now easily format text using a plain-text editor. Using bold text, italics, headings or lists, you'll have much more control when it comes to formatting your Group Posts. This is a great way to draw more attention to your posts – whether you're sharing kudos for a team member or making an important announcement, it will stand out on your Workplace feed and improve the impact, visibility and engagement of the information you're sharing. 
Here's a brief cheat sheet below: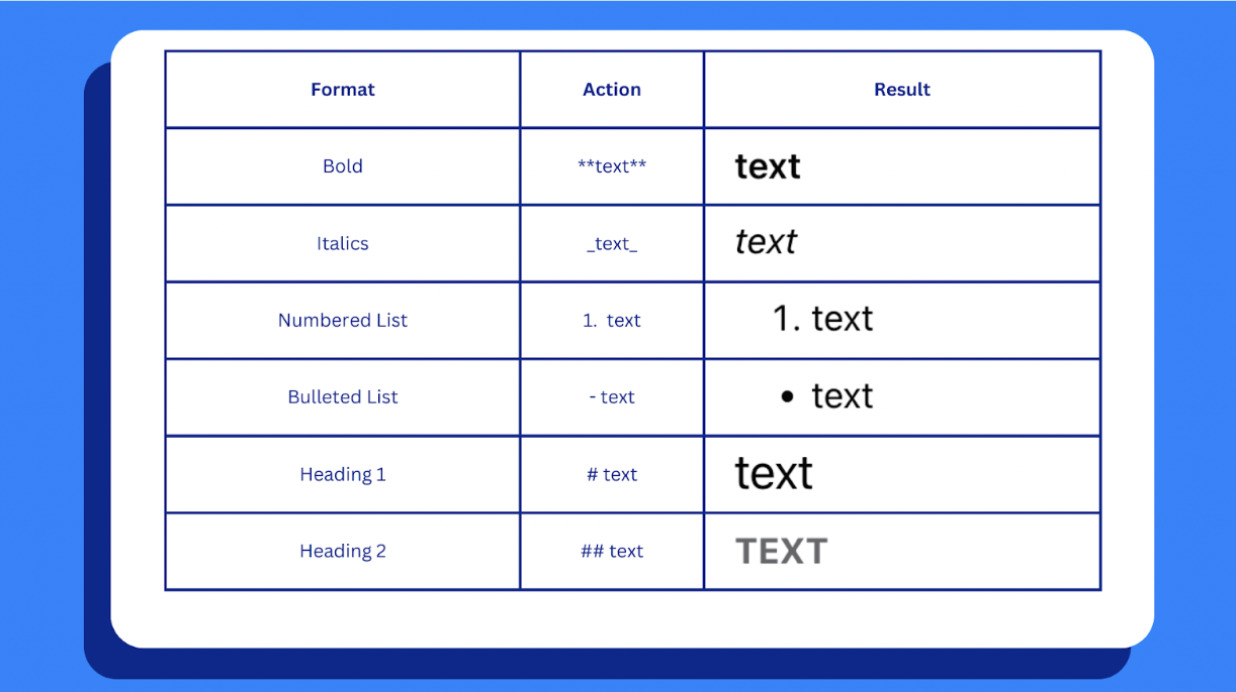 When adding the Group Post function into your message, simply enable the Markdown formatting and craft your desired formatted post!

New Bot Template Added for Employee Reviews
According to XpertHR, only 63% of employers conduct annual performance reviews, whilst performance statistics show that 98% of organizations believe performance management is necessary, and yet, under two-thirds say they have the right approach to it.
These statistics show that performance reviews are valuable, but not enough companies are doing annual reviews and when they are, they aren't necessarily doing them in the most efficient and effective way. This is concerning when 85% of surveyed professionals said they would at least consider leaving their company over an unfair performance review; top reasons cited for leaving included inaccurate performance review and being passed over for a promotion based on a review that didn't reflect performance and bias.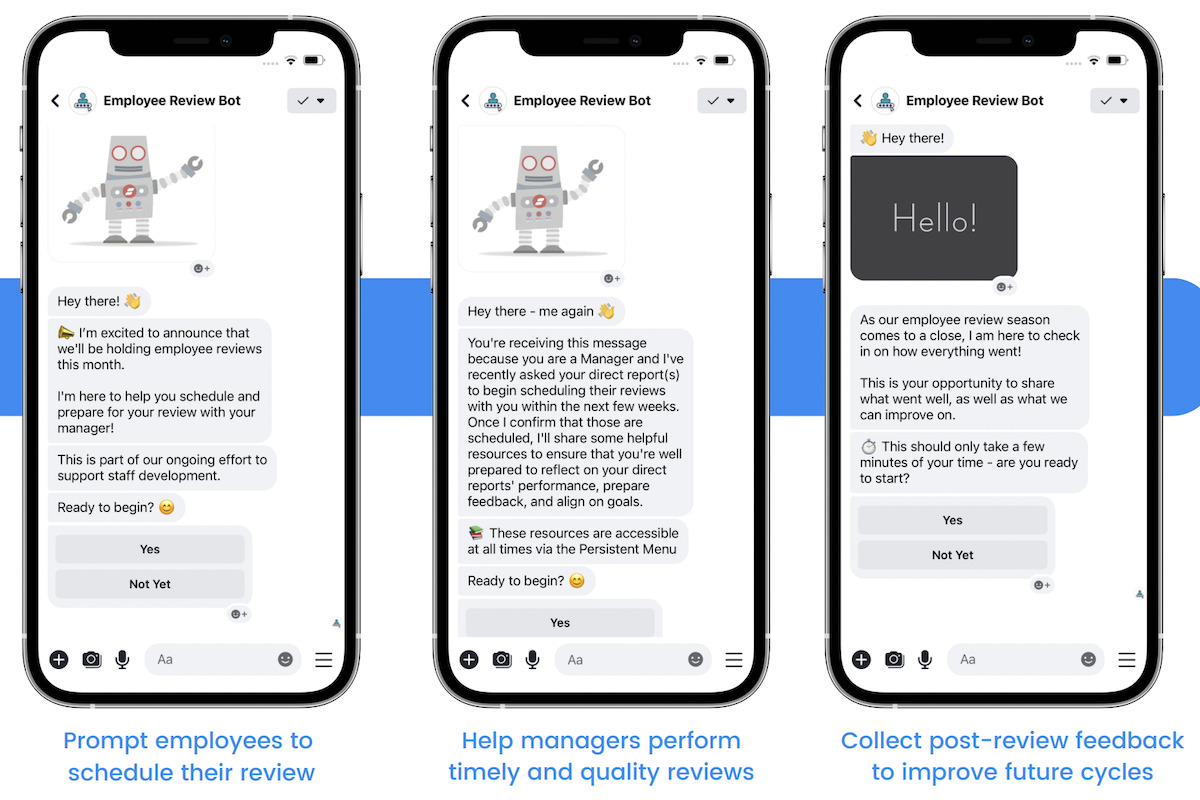 Check Out the New Template
Managers spend an average of 210 hours a year in performance management activities, but our template will automate the administrative demands that accompany review season. Ensuring that employee reviews are booked in and conducted in a timely manner is a big job, often involving lots of manual chasing from HR teams and Managers. 
This bot automates out all the annoying admin work, while also putting resources in front of managers to ensure reviews are completed to a high standard – and that employee feedback is incorporated into the next review cycle.
As always, this template can easily be edited and adapted to fit in with your own Performance Review process and cycle. Have a peek at our Bot Note to learn more.

Send To Spreadsheet Improvements
Being able to easily send and receive information to spreadsheets is another area of the platform that we've been improving on. We've added a helpful alert to Send to Spreadsheet users, which lets them know if the columns they are looking for aren't found, or if the linked spreadsheet is empty or missing any headers.
Cross-Platform Bot Copying is Easier than Ever Before
We've made copying Workplace bots to Teams and vice versa so much easier than ever before. You will now be able to build a build for either Workplace or Teams and duplicate it using our "Copy Bot" functionality. These troubleshooting improvements will ensure that the copying a bot across multiple platforms will be a much smoother process.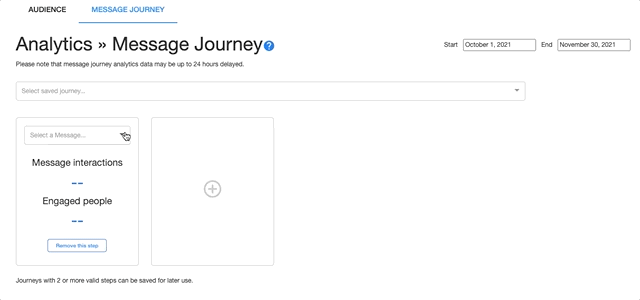 Message Journeys are Updated
We've also improved Message Journeys so it's easier to see how far bot users have gone through a certain flow of messages, so you can better monitor message flow and campaign completion rates. 
The first message in the flow will show the total number of interactions and engaged people for that message. Each subsequent message shows the total engaged people who have also engaged with the previous messages in the flow. 
Got a new channel you want us to integrate with? Or a product feature you'd love to see us build? We love hearing your feedback – so be sure to reach out to your TBP Customer Success Manager.
And if you're not a customer but want to test drive these new features for yourself, possibly even using our new Slack Integration, then get in touch!