Here at The Bot Platform we pride ourselves on always striving to improve, and this is particularly true when it comes to the platform itself. We are in a constant state of evolution because we want the platform to be as good as it can be for you, our wonderful customers.
As such, there may have been some updates you have missed that would be really beneficial to your business, so we thought we'd give these excellent features the limelight that they deserve, and who knows? They could be exactly what you are looking for!
Take a read below to find out all about Anonymous Bots, Drip Campaigns, Group Triggers and more.
As much as we hope that everyone's company culture is open for feedback and all employees are happy to express their opinions, it's not always the case. Not everyone feels comfortable making suggestions or complaints if they have to put their name to them. Anonymous Bots gives those more introverted employees a voice, and who knows? The quietest voice in your company could also have the brightest ideas.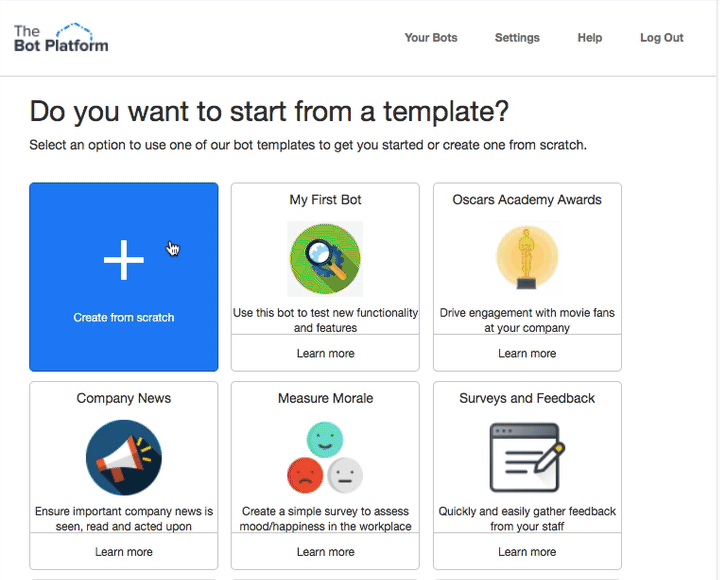 Why not set-up an anonymous whistleblowing bot? Or facilitate Leadership Q&A's where an employee is free to ask questions completely anonymously? Or how about a virtual suggestions box, so employees feel comfortable reporting any issues within the company without the fear of repercussion?
Using bots and digital assistants it's easy to create anonymous reporting mechanisms that create a culture where employees are far more likely to report or seek guidance around potential or actual wrongdoing. 
An increase in internal whistleblowing reports is actually beneficial for a business – a study published in the Journal of Accounting Research found that a greater number of internal reports are linked to fewer subsequent external problems like lawsuits and regulatory fines, meanwhile research conducted in 2017 found that for every $1 invested in whistleblower process and protection, there is a potential to gain $22 in terms of funds recovered.
Click here to find out how to set up your own Anonymous Bot.
If you would like to keep employees updated with messages at regular intervals without having to manually send out multiple messages, then drip campaigns are for you! This feature allows you to send a message or a number of messages to a segment of users at selected times and dates.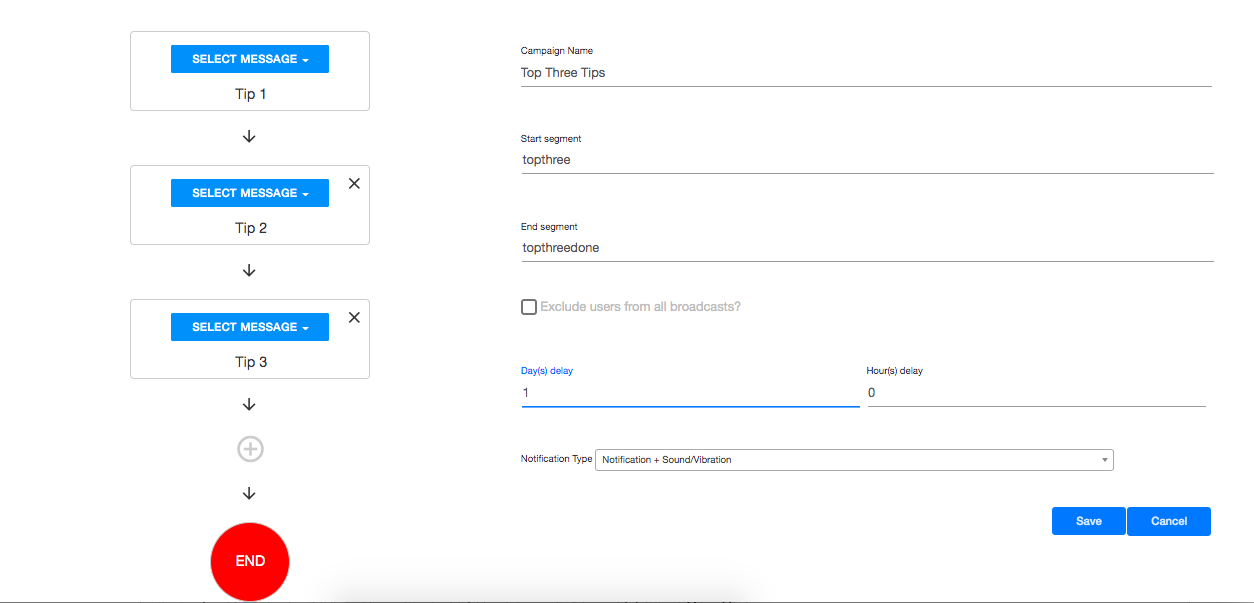 This type of feature is particularly useful during onboarding campaigns, allowing you to build information-filled campaigns that are automatically broadcast across a new starter's first few weeks. 
Onboarding is your employee's first point of contact with your company, and as the saying goes, you don't get a second chance to make a first impression. According to Glassdoor, great employee onboarding can improve employee retention by 82% and productivity and engagement by over 70%.
Another use for this feature is using it to automate check-in processes for people who came into a bot looking for more information, for example, if an employee used an FAQ bot, you could then set up a message 24 hours later to ask if they found the answer the were looking for, allowing you to also check the effectiveness of your content and see if there any any missing pieces of information you can drop into the bot that will save your team time in the long run. 

Click here to find out how to set up your own Drip Campaigns.
Group triggers are one-off messages that you can send to a member of your Workplace community when they join or leave a Workplace group. This helps to increase bot engagement and target specific people.

Group Triggers are perfect if you want to send out a welcome message from your New Starter Bot when someone joins your 'All Company' group. Or, send out updates for an event when an employee joins the event group. 
Likewise, when someone leaves a group, you could ask for feedback as to why or trigger an exit interview bot when someone leaves.
According to Scribe, when an employee is about to leave, they're more comfortable sharing an honest opinion on their experiences with your company. Employee exit surveys improve retention and overall employee engagement. 
By asking the right questions, you can identify problems in the workplace, detect areas for business process improvement and assess the overall organisational climate. 
Click here to find out how to set up your own Group Triggers.
Bots can do a wide range of things and collect an array of data – that's why it's a good idea to keep your data organised. Data sets can help you achieve that; they are essentially collections of data where you curate and control what data you are saving and downloading.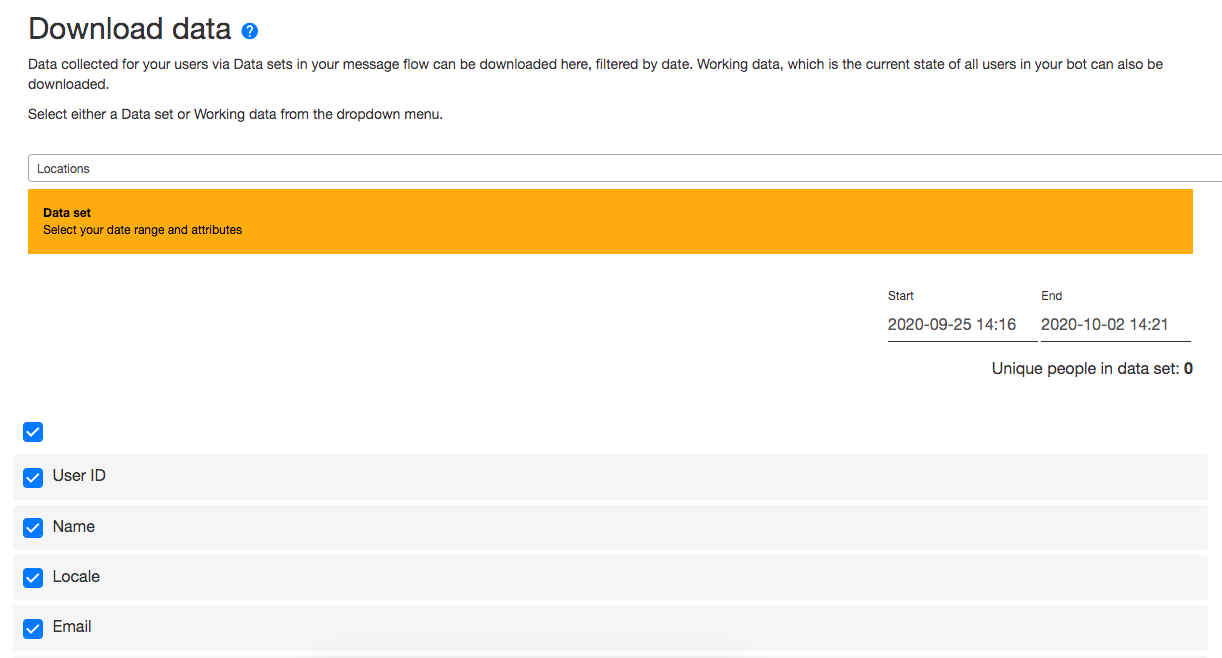 Data Sets are particularly useful if you want to send out surveys to employees. For example, you could send the same survey following multiple upskilling courses, but you can use a different welcome message to tag which course it is specifically, and then data set the rest of the answers. That way you won't have lots of data intertwined and it can be filtered by the course. You can also log multiple lines of feedback from the same users, instead of it being overwritten each time.
Having an effective way to collate and distribute survey results could make a big difference to company culture and engagement as employees will feel that their voices are heard and respected, especially when actions come from their suggestions.
According to Hive, organisation responsiveness to employee feedback leads to higher retention rates, lower absenteeism, improved productivity, better customer service and higher employee morale. 
The simple fact that employers are conducting a survey can send a positive message to employees that their opinions are valued, and making sure those opinions are collated and put in front of the right people is the most important part of the survey, ensuring that it is an effective way to get a pulse on the company and not just a box-ticking exercise. 
The Persistent Menu brings users directly into the top-level features and flows in your bot. It shows at the bottom of the screen so people can quickly access those buttons. You can add up to three buttons, which send users onto a website or another message in the bot. This makes it super easy for users to navigate back to important parts of the bot flow i.e back to the top, or onto specific websites.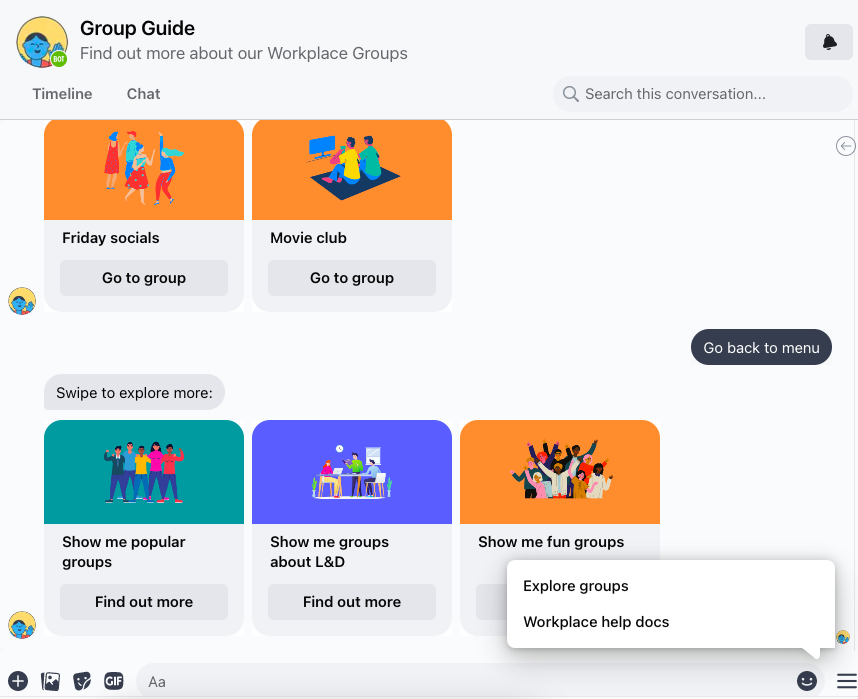 Persistent menus are especially useful when building complex bots. If a user is navigating through a survey and finds they want to retake their questions any time throughout the flow, they can easily head to the persistent menu at the bottom of the screen and click back up to the top of the user flow. Persistent menus are also useful in resource or FAQ bots – regardless of how much content the user has navigated through, they can always find their way back to important touchpoints in the bot (i.e. main menus) by clicking into the persistent menu. 
You can also route users back to useful touchpoints like "help" and "feedback", so they can access these specific messages at any time. This adds an extra layer of discoverability onto messages, instead of just relying on keywords.
Looking to add a bit of fun into your bot? You can attach a multi-response message to a button in the persistent menu and allow users to click through randomised messages. You can build randomised GIF bots, or inspirational quote bots to keep employee morale high. 
You could even use the persistent menu as a sort of easter egg mechanism. For example, if you created an event bot, you could add a button into the persistent menu that highlights some interesting event facts or secret events/meetups taking place.
If you are going to use a persistent menu, we recommend highlighting where it's located – you can usually do this in the welcome message or in a message which is triggered by a keyword (e.g "help"). 
Click here to find out more about setting up your own Persistent Menus.
If you would like to find out more about any of these features please get in touch today and we'll be happy to help.